As we welcome in spring/summer 2021, the change of season also brings with it a shake up in the nail world, with new art, colours and shapes that clients will be dying to try as soon as you reopen your doors.
Naturally, the coronavirus pandemic has had an impact on consumer behaviour and it seems demand for nails will be high post-lockdown.
Although this is great news for the industry, right now preparation is key, which means swotting up on the latest trends. "Use the information you've got on your clients to your advantage – i.e. whatever your bread-and-butter service is then you need to really concentrate on that," explains international tech and educator Kirsty Meakin.
"For example, if you have a predominately gel-based clientele then you need to be creating these SS21 trend designs with gels and do some lovely shots of your work with great lighting."
[sponsored content]
BlingLine UK has developed a new Spring 2021 collection, featuring six invigorating, spring-inspired shades, including hues of cherry blossom, periwinkle, mint, sun-kissed yellow, cloudless blue and juicy watermelon.
In addition to this, each season BlingLine also releases six on-trend glitters to pack a sparkling punch to the season.
The spring glitter 2021 collection will feature hues of glistening aqua, peach smoothie, shimmering rose, iridescent lavender and ocean blue.
All products in the BlingLine Range are vegan, hypoallergenic and cruelty free.
RRPs: £59.76 for the colour collection; £83.70 for the glitter collection.
The spring/summer 2021 nail trends
Meakin adds: "Get these images on your social media platforms so clients can see what you have to offer and pair this up with an email to your database on the coming trends so you are on their mind."
We explore four nail trends set to be big in SS21…
SS21 nail trend 1: wavy lines and muted designs
.
Above left: CND – Hang Ngyen @thehandedit Above right: Kirsty Meakin
As we head into spring/summer 21, we wave goodbye to the complex nail art that has been much loved in 2020 and say hello to much more subtle and abstract designs.
"Simple, minimalist nail art such as a French tip, geometric, and abstract shapes and lines will be big in SS21," says Katie Barnes, award-winning nail tech, educator and owner of the KB Pro Tools Range. Think chic, negative-space designs – starting with a nude base to which you can add geometric shapes, waves, swirls, stripes and chrome accents.
"This trend is my favourite since the nail art becomes the star of the show being on a nude, barely there background," explains Julie- Anne Larivière, Salon System nail expert and owner of Sketched by J-A Nails.
However, minimal-line wavy nail art is the design tipped to be the biggest. "Imagine you've got a one colour background and then on top of that you've got a continuous S-shaped line. You would draw two-to-three of them on the nail and they would all be different and irregular," explains Meakin.
"This design doesn't need to be uniform, which means you don't need a lot of skill or experience to do it. It looks so effective because it's so simple and that's why it's really salon-friendly."
This much more minimalist approach means that full, heavy glittered sets, velvet, tortoise print and soft marble nail art are likely to fall out of favour.
Barnes says Japanese-inspired manicures with barely there colour have also been all over the catwalks and social media this season: "With many still working from home, this situation brings natural looks to the forefront of fashion, with nude nails to complement loungewear."
SS21 nail trend 2: pastel and bright rainbows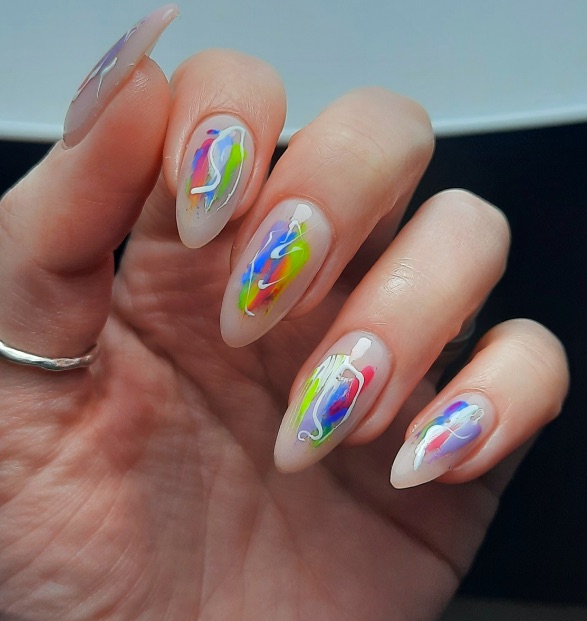 Above left: Jaz Moger; Above right:Hannah Leahy Nails
Red and yellow and pink and green… that's right, rainbow nails are going to be really big business for SS21. "Pastel bright rainbow nails are the playful trend I've spotted on social media and celebrities and I think this will be a big hit for spring/summer," says Barnes.
"It is a nail art look that can be as subtle or adventurous as you like, depending on your shades and contrast choices."
Cording agrees that it's the season for bright and colourful rainbow manicures, using "a different shade of colour from the same palette on each nail, especially popping pinks. It's such a simple way to freshen and change up a simple manicure style for spring", she says.
This trend means that the well-known ring/one fi nger nail art design manicure will fade out of fashion.
"Colours like bubblegum pink, all shades of blues – from royal to baby, and strong greens and emeralds are set to be super trendy," adds Larivière.
These are perfect for rainbow designs. Yellow and grey will also be huge, which is no surprise after being named Pantone's Colours of the Year 2021, while muted pinks will also be in. "Cobalt blue will be a surprising and popular colour choice for the season," adds Meakin. "
Some techs struggle to team it up with other colours but it goes really well with pastels – for example, pink, orange and blue look really good together."
SS21 nail trend 3: the ྂs comeback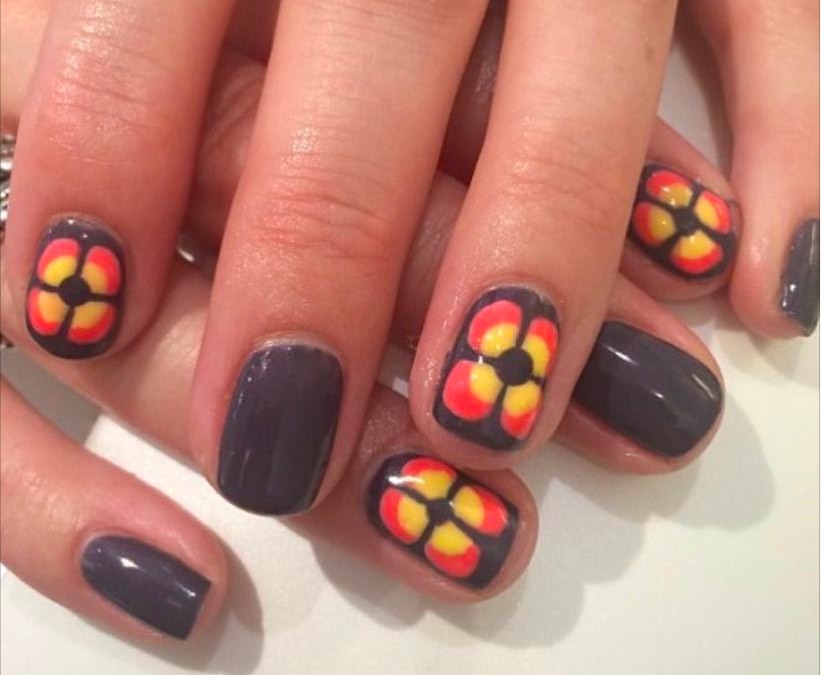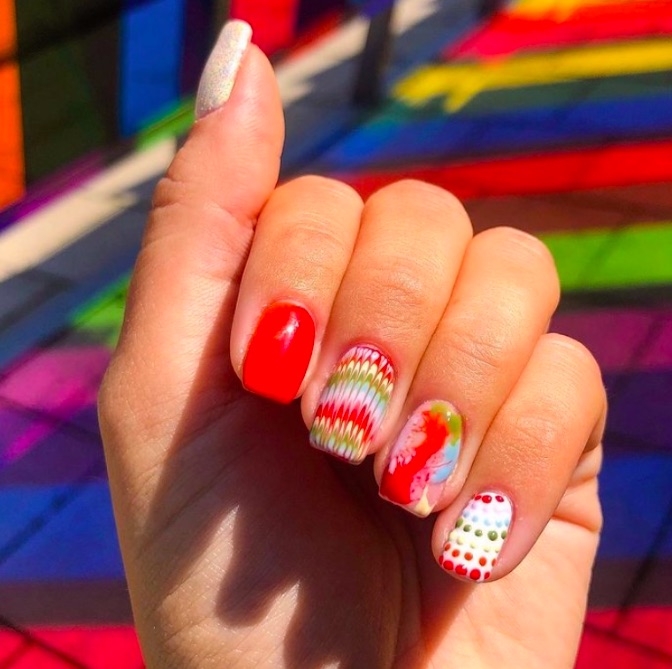 Above left:Jenni Draper; Above right: Emily Cording
"We're seeing a '70s fashion and colour trend developing this season," says Draper.
"This is where we'll start to see browns, oranges and yellows of a more subtle tone making an appearance – think TV show The Serpent for inspiration."
Jaz Moger, owner of Paint by Jazz and a Salon System nail expert, predicts that fl orals will also be given a '70s twist this season too: "'70s interiors and fashions are making a big comeback, so why not bring it to your clients' nail art too? Go bright and bold or keep it more muted – think nudes, browns, mustard yellows, pinks, oranges and whites."
Indian-inspired bright pinks and oranges were also seen on models' nails at the Fendi, Christian Cowan and Tom Ford SS21 fashion shows, "with these bright colours going with everything from ethereal textures, to contrasting brights and even busy patterns", adds Barnes. "Designs focused towards the free edge will also be popular as these will hide the growth of any nails that may not be getting fi lled as often as usual."
SS21 nail trend 4: short, neat shapes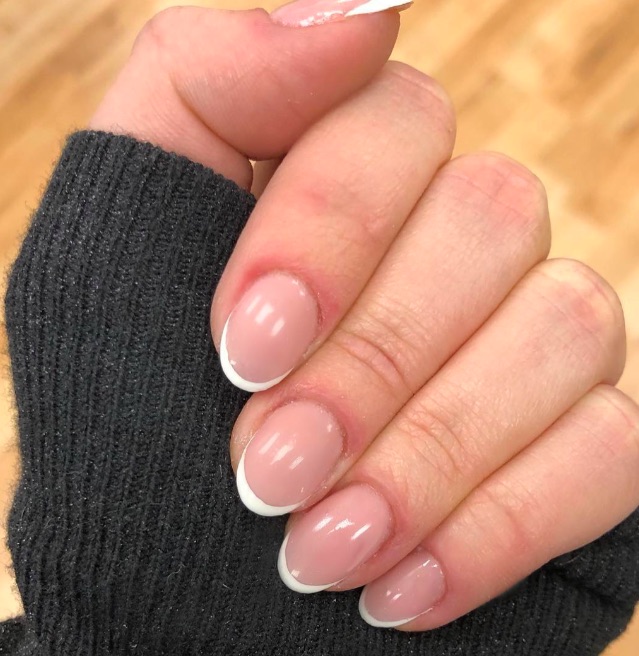 Above left:Jazz Chistodoulou; Above right: Katie Barnes
Long, extended nails like coffi n and ballerina shapes are on the way out as coronavirus lockdowns see customers opting for more wearable lengths. "While people have been unable to have their nails done they've been keeping them maintained at home, so neat, natural, shorter and well-manicured nails will be very popular," explains Draper.
When salons and spas reopen, nail lengths of soft almond and square will be popular as "customers need nail shapes and lengths which they can maintain and these shapes also perfectly carry the nail art trends of spring/summer", adds Barnes. A square nail with a rounded edge will also be high on clients' must-have list as "SS21 is all about a change up, with a striking nail in the form of a squoval", predicts Cording.
But, as the season goes on, Meakin believes we may see the re-emergence of a different shape – the long, square nail. She explains: "At the beginning of the season, a short, square nail will be really popular, but as we get back into salon you'll start to see the '90s trend of a long, square nail coming back as a key shape."